Grace Pearl Ingalls
Grace Pearl Ingalls was born on May 23, 1877, in Burr Oak, Iowa. Being the youngest member of the Ingalls family, she did not play as much of a role in Laura's books as Mary and Carrie did. She was only eight years old when Laura married and left home. A diary kept during her girlhood years has been published in William Anderson's booklet, The Story of the Ingalls. In it, Grace mentions some of the events of The First Four Years, such as Rose staying with the Ingalls family while Laura and Almanzo were sick with diptheria, the birth and death of Laura's son, and the house fire.

Grace grew up in De Smet, and followed in her sister's footsteps by becoming a teacher. While teaching in Manchester, South Dakota, just seven miles west of De Smet, Grace met Nathan William Dow.

Grace and Nate were married in the parlor at the Ingalls home in De Smet on October 16, 1901. They lived in Manchester until Ma's death, and then returned to De Smet to care for Mary. They never had any children.

Grace died on November 10, 1941, and Nate followed in 1943. They are buried in the De Smet Cemetery.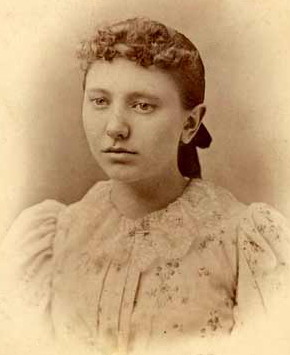 Grace Ingalls
Photo courtesy of Herbert Hoover Presidential Library.
Used with permission.