Charles Ingalls
Charles Phillip Ingalls, known in Laura's books as "Pa", was born January 10, 1836, in Cuba, New York, to Landsford and Laura Ingalls (the Grandpa and Grandma of Little House in the Big Woods). He married Caroline Quiner on February 1, 1860, and had five children.

Laura portrayed Pa as a man who wanted only the best for his family, but things never turned out the way he hoped. The family moved many times during Laura's childhood due to Pa's "itching foot" which always wanted to go west. Pa often referred to himself as a carpenter, though at various times he was a hunter, trapper, farmer, hotel manager, butcher, Justice of the Peace, and storekeeper as well.

Pa died in De Smet, South Dakota, on June 8, 1902, but the charm of his stories and the music of his fiddle lives on in Laura's books and in the hearts of those who love them.

Today, Pa's fiddle is on display in Mansfield, Missouri.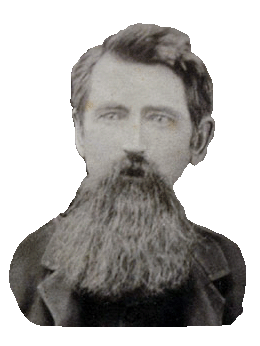 Photo courtesy of Herbert Hoover Presidential Library.
Used with permission.